ALEXIS4U
VINTAGE
GOLD GLITTER STOCKINGS

SELECT ABOVE FOR DETAILS

---

GOLD SPARKLE STOCKINGS

These Beautiful vintage Nylon stockings that were so popular back in the sixties are once again
making their step back into style. For that night out or just for at home these
beautiful Gold sparkle stockings will go well with that open heel shoe.
These are available in all sizes but are limited, so the pair you select
may be made by any one of the names listed here.

Albertís MAYER Ormond Prestige Van Raalte


The true Gold Glitter of these nylon stockings is very difficult to capture in a photograph.
All pictures are of Albert's brand, other brands will be slightly different.
---
Vintage From the 1960s, First Quality, Luxurious and silk like are some of the words
to come to mind when I try to describe theses stockings. They are made of
100% Dupont Nylon, utilizing 15 Denier threads, the heel is nude
perfect for that open heel shoe and the toe has full reinforcement
to enhance their durability.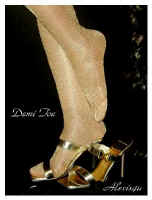 These are not a stretch, mesh type stocking of todayís manufacturing technique
but rather a silky smooth nylon stocking from the sixties.
Alexis
---