ALEXIS4U
---
Mr. B Vintage Nylon Stockings
MODEL 7415 - Flat knit 400 needle 15 Denier nylon stocking with RHT
MODEL 4716 - Non Run 400 needle 15 Denier nylon stocking with RHT
---
AS PRINTED ON THE STOCKING WELT

MR. B
HOSIERY
FIRST QUALITY
100% NYLON RN 25331


BOX
MINK
This shade of Mink is associated with its soft lustrous typically dark brown color geared for use with the deep tones of browns and blacks, exc.
MODEL 7415
Mr. B first quality hosiery was made back in the sixties utilizing the same type of machinery as Hanes, so as to duplicate the Hanes 415 stockings that led in market sales. You can easily see how they parallel in fit, wear and silkiness. These stockings were made beautifully proportioned not only to the length of the leg, but also to the width.
Vintage nylons like these are very difficult to find and will not be around for much longer.
Mr. B Flat knit Nylon stockings, the essential eveningwear for woman through the sixties and seventies are ultra Dress sheer evening wear nylons as they are of the utmost sheerest stocking made, a truly 400 needle stockings made with 15-denier nylon, Reinforced Heel and Toe and set Flat knit
to give them the silkiest feeling that a stocking can have. These are Vintage Nylon Stockings.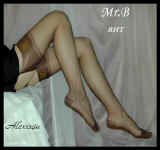 RHT
I present to you these fabulous ultra dress sheer flat knit nylon stockings
still wrapped around a stiff board, in tissue paper and in an original box
from the seventies as it was shipped from the factory.
Alexis
---